Christmas Exclusive Offer (IMF Stage 3, Organic HiPPis: Free 1 Jumptopia Ticket Valued $138)
$1,472.80
HiPP 3 Organic HMP Milk 800g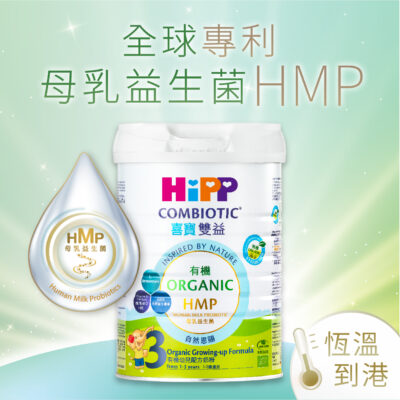 4 × HiPP 3 Organic HMP Milk 800g
1 hour Single Admission Ticket [Valued: $138] (For Weekday only) (Adult x1 +child x1)
Out of stock
Description
Christmas Exclusive Offer in December
When purchase:
4 cans of HiPP 3 Organic HMP Milk 800g
(2) 1 pc of designated Organic HiPPiS (Pouch) [Choose one of the two]
i) HiPP Organic Plum-Blackcurrant in Pear (100g) 6 pcs OR
ii) HiPP Organic Apple Banana (100g) 6 pcs
You can get:
1 x Jumptopia 1 hour Single Admission Ticket [Valued: $138](For Weekday only)
Terms & Condition
1. Promotion period: from now on – 29 December, 2022
2.The admission e-ticket redemption code for Jumptopia will be sent via SMS within 5 working days after completing the order. Tickets are valid until 31st January, 2023.​
For terms and conditions, please visit: https://bit.ly/3V4nRhE
3. While stock lasts
4. Hong Kong customers only
5. The picture is for reference only. Certain products may be subject to market supply. In the event that products are unavailable, we will substitute items using products that are of a similar value without prior notice.